The Taco Bell Foundation is thrilled to support Taco Bell Team Members in their educational goals by providing them the opportunity to receive funding from the Live Más Scholarship for Restaurant Employees! This year, the Foundation is excited to award more than $1 million in scholarships to deserving Taco Bell Team Members across the country!
Meet 10 of the 157 Taco Bell Team Members from the 2020 Class who are pursuing their passions and making an impact in their communities all while providing outstanding service to their customers.
Melanie G. | Computer Programming
Melanie fell in love with coding as soon as she was exposed to computer programming. She plans on reviving a website she built to feature recipes that are accessible to everyone, even showing how to cook without use of a conventional oven or stove. While she works at Taco Bell, Melanie is also working to obtain her associates degree in computer science at Tarrant County College District. Melanie is excited to transfer to a four-year university after that and is already looking for schools she might want to attend!
Jacob W. | Creative Arts
As a Marshall University student, Jacob is taking advantage of as many programs as he can while he double majors in graphic design and advertising, and double minors in creative writing and Spanish. With these courses under his belt, Jacob hopes to spread positivity through advertising and one day create a campaign for Taco Bell.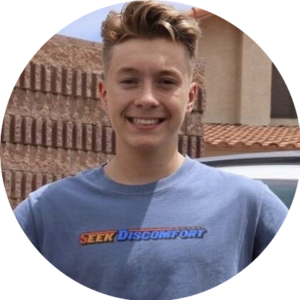 Roman R. | Health & Fitness
After 10 years of training to become an Olympic gymnast, Roman's life changed when an injury left him unable to compete. Roman felt like his life was over, but that all changed when he got his first job working in customer service at Taco Bell. From the start, he found immense joy in making customers smile and leaving them happier than when they came in. Roman says, "Taco Bell became my life and serving others became my passion." This experience led Roman to discover how his newfound passion could translate into a career as a physical therapist. Roman hopes to attend the University of Nevada, Reno to start on his path to helping kids with similar injuries overcome their struggles and live out their passions, too.
Omar R. | Education
Growing up, Omar lacked role models to look up to, was surrounded by violence and drugs, and had little motivation to pursue higher education. Everything changed when Omar's English literature teacher came into his life and provided him with support and encouragement. Today, Omar is studying at Cabrini University to pursue a career in education so he can become a high school teacher. As a future educator, Omar hopes to inspire his students and provide them with guidance the way his teacher did for him.
Deborah R. | Health and Fitness
Deborah is passionate about dietetics and teaching children how to develop a healthy body image. Through her work, Deborah wants to combat the negative effects of unrealistic media images on young people's ideas of health and beauty. Currently, Deborah is taking classes at a community college while working at Taco Bell and enjoys having conversations about nutrition with her customers. In the fall, Deborah will be transferring to Michigan State University to pursue her passion.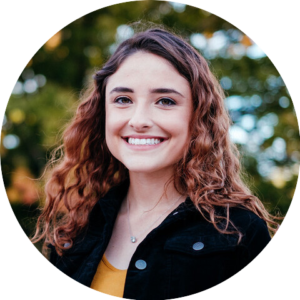 Victoria L. | Science
Victoria's love for the environment has motivated her to adopt a vegan diet, plant native plants in her community, volunteer on a local farm, and pursue a degree in environmental science. Through her education at University of Illinois Urbana-Champaign, Victoria wants to learn and conduct research on how to best protect the planet for future generations to come.
Shekinah A. | Community Service
Shekinah has a passion for giving back to her community. Shekinah attends New Jersey City University and is obtaining a degree in biology and psychology to prepare for a career in medicine. Shekinah's dream is to work as a doctor, after attending Temple University School of Medicine, to provide care for low-income families who lack access to the services they need.
Lauren F. | Business/Entrepreneurship  
Lauren is passionate about art, music, sports, nature, and animals, but she says her biggest passion is her Job at Taco Bell. Lauren started as a Team Member at Taco Bell when she was 18 and shortly after decided to pursue a career as a Regional General Manger for the company. Now, at 23, Lauren plans to go back to school and finish her degree in psychology and business and to continue her career at Taco Bell. Lauren wants to show her team, and her customers, that it is never too late to continue your education and follow your dreams.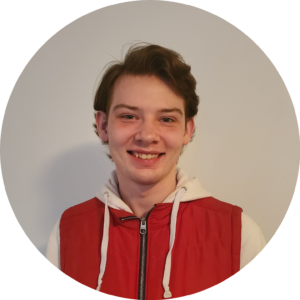 Cody B. | Creative Arts
Since he was a kid, Cody has always been passionate about storytelling, and he's dabbled in a plethora of mediums including film, sound design, stop motion, acting, and voice acting. After years of exploration, Cody found his true passion for animation. Cody is taking classes at Brigham Young University-Idaho, with plans to transfer to Brigham Young University in Provo, UT, to obtain an animation degree for visual effects and design. He plans to use his education to further tell stories through the illusion of life.
Alisa V. | Science
During her human anatomy course in high school, Alisa discovered her fascination for the human body, and specifically, her interest in teeth.  It was then she decided to attend the University of Alaska, Anchorage and major in dental hygiene. Coming from a family of 12, Alisa strives to be a good role model for her siblings as she educates others on the importance of oral health. For Alisa, dental hygiene is more than just taking care of your teeth, it's taking care of yourself to prevent future problems and living as healthy a life as possible.
For a full list of 2020 Live Más Scholarship recipients, click here!
The Live Más Scholarship for Restaurant Employees is made possible by generous donations from Taco Bell franchise owners and private fundraising events.
Missed the opportunity to apply for a Live Más Scholarship? Click here to sign up for email reminders when the next application phase opens in the fall!