Posted October 30, 2023
2023 Live Más Scholarship Recipient Citlali Delgado grew up in an environment seeping with creativity. From mischievously illustrating on walls as a child to sewing folklorico dresses with her abuelita, it was only a matter of time before her family's roots in art and expressive environment fueled dreams of a career in art and design.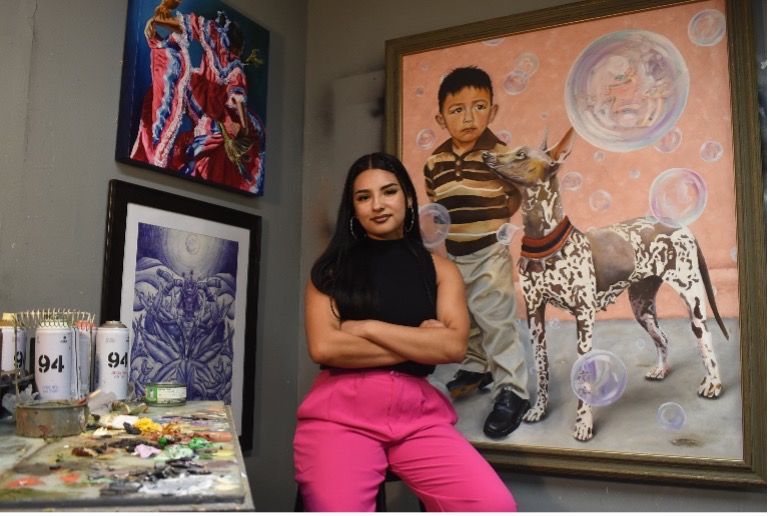 Citlali's love for art blossomed her junior year of high school during the COVID-19 lockdown, when she discovered that painting and drawing not only allowed her to bond with her little sister, but also alleviated stress during that uncertain period of life. What was once a hobby transformed into a passion, and Citlali was instantly drawn to the idea of using art as a method of storytelling, both for her personal stories and her nearby communities. As a visual artist, Citlali creates art that highlights her feminist beliefs and celebrates the social and cultural challenges faced in her hometown of El Paso, Texas, and the borderland region along the U.S./Mexico border.
Citlali has her father to thank for not only instilling in her a love for art, but also an understanding that this passion can be used for good. She grew up an activist, selling t-shirts, stickers, and prints reading "I Love Inmigrantes," the name of the collective her father and uncle created to uplift the ideology of acceptance. "I take these influences with me everywhere I go," said Citlali. "The torch has been passed on to me, a woman who intends to do greater things than anyone could've imagined with my art, and soon, the collective itself."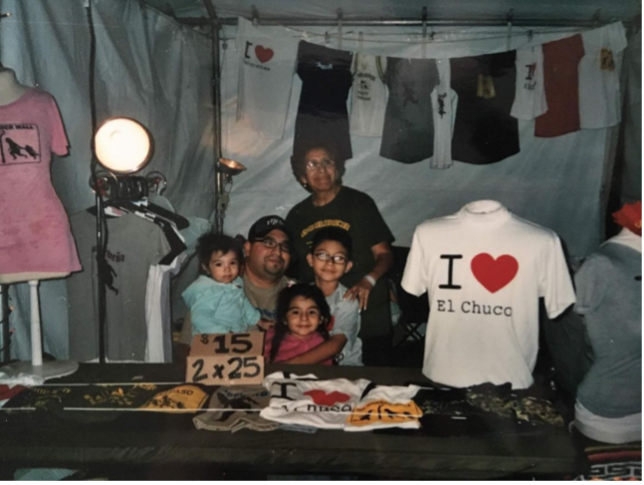 While Citlali's activism doesn't solely revolve around art, she has embraced it to counter negative stereotypes and promote feminist perspectives. Her self-portrait "Citlalicue" takes pride in her Aztec, Nahuatl name, Citlali, that for years growing up, she let people mispronounce and nickname – disregarding an integral part of her identity. Citlali vowed to never again let the actions of others lead her to second guess who she is as an indigenous woman, and she hopes that by telling the stories of historic females who have fought gender stereotypes, she can inspire future generations of girls to do the same.
When Citlali became a Live Más Scholar during her undergraduate career, it was immediately a priority for her to foster an inclusive community of like-minded Latinos, which inspired her to establish the group "Viva La Raza" within the Live Más Scholar community. "The inspiration of seeing other scholars just as hungry for great things like me, and what seems to be lifelong relationships and advice, is truthfully unmatched," she said. "The most mindboggling part is having the opportunity for a physical, real-life encounter with many of the members during the Summer of Connection conference!"
Through her studies, Citlali has learned to express herself through photography, ceramics, sculpture, and so many other mediums she would have never thought possible. One of the pieces Citlali is most proud of is "Destino Manifesto," which depicts her rendition of the widely recognizable painting "American Progress." In replacement of the angel flying over indigenous land, Citlali illustrated La Virgen de Guadalupe, a representation of hope prominent in Mexico and Mexican American culture.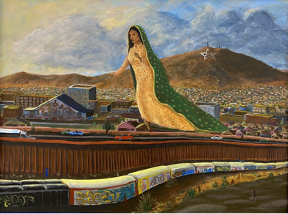 Citlali proudly credits her community for encouraging her to voice her intentions and contribute to a movement bigger than herself. "The Latino creatives are people I grew up looking up to and have now welcomed me with open arms as an emerging artist," Citlali states. It is this support that inspires her to one day take her activism beyond her hometown. She hopes being independent in a new setting will help add to her mosaic of identity and push her closer to her dream of being a full-time artist.
When asked what her greatest piece of advice is for other aspiring changemakers, Citlali stated simply, "You are doing things that are bigger than you. You are doing it for a cause that may have been rooted way before you were born and may be lurking way before you leave this earth, so do it for the progress of the goal. Do it because you have the capability to care within you that can quite literally change the world for the better."