Chima Enwere – 2017 Live Más Scholarship recipient, 2018, 2020 & 2021 Live Más Scholarship renewal recipient, Keyboard Performance Specialist & Pedagogy, and master's recipient at East Carolina University.
Growing up, Chima Enwere had just one wish, to become a professional pianist. On his eighth birthday, his mom gave legs to that dream when she took him to his very first piano lesson. From that moment on, Chima's love for music was set in stone, and he began to build a life around that love.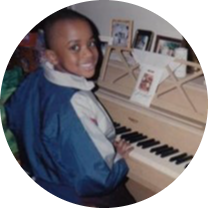 During his freshman year of college, Chima finally made the decision to take this love for music and turn it into a career. But he knew that he could not do it alone. Being raised by a single mom who worked selflessly to fulfill the needs of three boys, Chima knew that he would have to find scholarships to help make this dream a reality. After countless applications, Chima found the Live Más Scholarship, and right away he knew there was something unique about it. Throughout his education, that proved to be true.
Since receiving the Live Más Scholarship in 2017, Chima has found a support system of like-minded individuals pursuing their passions. This is what Chima believes to be the main difference in the Live Más Scholarship.
"Fortunately, I won a few other scholarships over my time in undergrad. The main difference, however, is that after receiving their checks, I did not hear from them again. However, Taco Bell went the next mile making sure they assisted not only financially, but in many other areas as well," stated Chima. "Money, of course, is a large part of college, but to be successful, so much more is needed. Encouragement is extremely underrated." For Chima, the Live Más Scholarship went beyond in every department.
Last year, Chima had the opportunity to play the piano live alongside other scholars at an annual convention that brings Taco Bell franchisees from all over the country together to witness the latest advancements within the business. And it all started with a simple connection Chima made within the Live Más Scholarship community.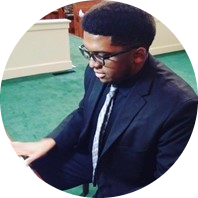 At the beginning of the year, Chima collaborated with two other Live Más Scholars to create a virtual musical celebration of the scholarship recipients who graduated in 2020 or 2021. The Taco Bell team was wowed by their performance and asked them to appear at the convention. Not only did this performance allow Chima to share the gift of music, but it also gave him a chance to connect and build friendships with other scholars, Taco Bell franchisees, and employees. He even had the opportunity to perform on the same stage moments before the convention's special guest, Katy Perry!
Because of that opportunity and the others presented to him during his time as a Live Más Scholar, Chima chose to take that sense of community and expand it into other parts of his life. Most recently, he started his own small business – Music Together of Fayetteville.
Chima's business introduces children, parents, and teachers to the powerful benefits of music. And Chima has made sure that a sense of community is at its core. The bread and butter of his business are military spouses. Fayetteville, North Carolina is home to Fort Bragg – the largest U.S. Army base by population with 500,000+ active-duty soldiers and their families. Many of them often get deployed, leaving behind their wives, husbands, and children for extended periods. Music Together classes are a safe space for these military spouses to get to know each other, bond over their lifestyle, and build a community. Chima knows that sometimes a community is all these families need, and he is glad that his business and music are at the center of these connections.

Chima is a four-time Live Más Scholarship recipient, pursuing his dreams of teaching and performing while owning and operating a small business. Chima recently completed his Masters in Music with a Concentration in Keyboard Performance Specialist & Pedagogy and was the first person at his university to pursue this program. "This degree is the first of its kind as it combines three of those main performance disciplines of keyboard plus pedagogy," says Chima. "Initially, I chose piano performance as my major area, and collaborative piano & organ as my minors. After my first year, I realized that I enjoyed playing with others [collaboratively], so I declared collaborative piano and piano performance as my two majors and organ as my minor. Focusing on three performance disciplines plus pedagogy was a lot to juggle and was a bit stressful, but I am so glad I did!" Chima plans to use this degree to help him succeed in an industry that is constantly changing, giving him the perfect combination of a diverse undergraduate training with a comprehensive graduate degree. "I find it important to me to have my feet wet in all the disciplines of the piano," says Chima upon reflection. "This supports one of my favorite quotes and life mottoes— 'A jack of all trades is a master of none, but oftentimes better than a master of one' ".
On top of all of his accomplishments, Chima continues to be an active member of the Live Más Scholarship community! The Live Más Scholarship not only helped him make graduate school possible but it also helped him believe in himself. Chima encourages other scholars to "never give up — as cliche as that may sound. Know your strengths and your weaknesses. Wear your strengths with pride and continue to educate yourself to sharpen your weak areas."
 Any link contained in this blog is provided for informational purposes only; it does not constitute an endorsement or approval by The Taco Bell Foundation of any of the resources, services, or opinions contained therein. The Taco Bell Foundation bears no responsibility for the accuracy, legality, or content of these external sites or subsequent links.