Arin Goldsmith – 2016, 2018 & 2019 Live Más Scholarship Recipient, Pace University Alum, Social Media Marketer, Costume Designer
Three-time Live Más Scholar Arin Goldsmith has Cerebral Palsy, a motor skills disability that, until recently, she thought of as a disadvantage in pursuing her passion for art. Through the challenges she's faced, she's learned to champion uniqueness in all art forms. From designing costumes, to applying special effects makeup, to painting masterpieces, Arin knows the value of embracing creativity.
Arin's passion for art began as a teenager while attending a performing arts high school where she discovered her passion for costume design. While Arin proudly graduated college earlier this year with a major in costume design, her journey through school was not always easy. For her major, Arin was required to take multiple fine art courses, which left her feeling discouraged at first. "For the longest time I would beat myself up for it. I assumed I couldn't draw because my hands would shake. But after taking more art classes during college I realized two things. The first was that even though I don't draw in the most precise way it doesn't mean I am bad at it. Being different adds to making my work individual and special. The second thing I realized was that there were many other art forms out there. Drawing with a pencil can be difficult for me because it involves committing to a line, but painting is a different story. Painting is all about creating texture and building up color, both things that allows me to embrace my unique style even more."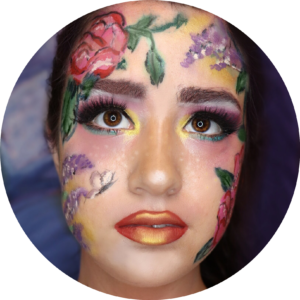 This newfound confidence has motivated Arin to try new art forms she previously thought she was incapable of mastering. Most recently, Arin has started doing special effects makeup and sharing the looks she comes up with on her Instagram. As Halloween quickly approaches, Arin's creative twists on classic looks have friends turning to her for her expertise. While the holiday may look a little different this year, Arin isn't letting that slow her down and is busy creating face mask specific makeup looks to inspire her friends and followers to stay safe while looking spooky.
Full time, Arin uses her creative gifts for her work as a social media manager and graphic designer, and shares her advice for other creatives:
Find what mediums work for you. Instead of beating yourself up for all the art forms that you are not strong in, find the art form you enjoy best.
Embrace what makes you different. I believe my less precise art style is what makes my work unique and beautiful. Instead of resenting what makes you unique, embrace it!
Set boundaries with your work. Whether it's with costume design, doing makeup, or painting, I have realized it is important to take breaks. In creative fields it can be difficult not to overwork yourself since you're passionate about what you do but setting healthy boundaries is crucial.
It's ok to change your mind. If you decide something is no longer the best fit for you, you are no less worthy than before. While I always thought I would be a full-time costume designer, after working in the industry I realized I didn't want it to be my career, which is okay! I learned way more from taking an unconventional education path and I would never regret it.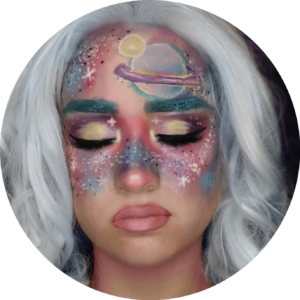 Click here to read stories about other unique Live Más Scholars and stay tuned for 2021 Live Más Scholarship applications opening soon.