Leslie Ponce-Diaz – 2017 & 2019 Live Más Scholarship Recipient, Architecture Student at Rhode Island School of Design
As a first-generation Mexican American college student, 2017 and 2019 Live Más Scholar Leslie Ponce-Diaz is pursuing her passion for art and design, while building community, embracing her culture, and encouraging other students to do the same. Leslie is no stranger to taking leaps and embarked on a journey from her home state of Kansas to Rhode Island where she studies architecture, coupled with sustainability and art history at Rhode Island School of Design. In the architectural world of grey, Leslie does not shy away from color, illuminating any room she walks into.
Wearing the sunflower shaped traditional Mexican style earrings which she crafted herself, Leslie shares her educational journey. "I never thought I would attend art school, let alone one out of state, but with the support of the Live Más Scholarship and the encouragement of my parents, I was able to pursue this path. Being a first-generation student can be difficult and when I started school I felt out of place. I was intimidated by my peers since many of them come from families of architects. As time went on, my comfort and confidence grew. Despite not having the same professional connections as other students, I knew I had the passion, drive and determination to be successful. Instead of overlooking my upbringing or background, I chose to fully appreciate the multifaceted aspects of my identity."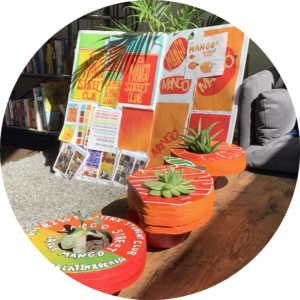 Taking initiative to create and cultivate community on her college campus, Leslie became the President and founder of the first Latinx Club on campus, The Mango Street Club. She was thrilled at the response their first meeting garnered. "Not only did the Latinx student population attend, but allies and students from all different backgrounds did as well. Being able to bond over conversation and Mexican snacks was an extremely special moment."
Recently, Leslie also launched First Generation College Chisme, a bilingual resource made for BIPOC, low-income, and first-generation college students and has been able to connect with even more students online. With her understanding of the pressure many first-generation students face to succeed and her recognition of the importance of pursuing your passion, Leslie shares some tips for other first-generation students embarking on their college experience:
Be patient with yourself. It's easy to feel enormous pressure when making the decision of where to go to school or what to major in, but keep in mind that choosing a specific route doesn't mean you have to stick with it for the rest of your life. Give yourself time and grace to figure out the path that is right for you.
Be brave. When I first entered college, I had no idea what to expect and it took bravery for me to go outside of my comfort zone into this uncharted territory. I got the courage to reach out to an alumnus who ended up graciously sharing with me her perspective and experience as well as answering my questions.
Find community. Whether it be through a club or athletic team, give yourself space to connect with individuals from similar backgrounds. At my school I even joined a program specifically for first-generation students called Project Thrive that has been an instrumental part of my college experience.
Express yourself. Many of the students in my architecture classes wear all black, but I choose to wear color. I embrace my identity to incorporate both the art and vibrancy from my culture as well as the technical aspect of my major.
Embrace unique perspectives. My family is made up of artists who never labeled themselves as such. It wasn't until I started college and saw the art and design in construction work that I realized how artistic my family really is.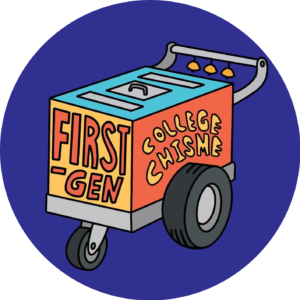 Drawing inspiration from her community and her family, Leslie's post-graduation plans include creating a nonprofit that combines fine art with architectural design. She envisions starting a program that brings audiences, specifically youth from urban populations, together to expose them to both art and design.