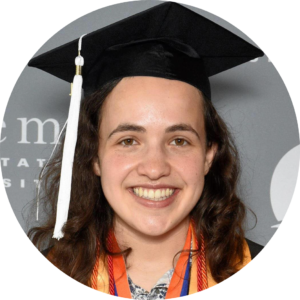 Maya 

Volpacchio
 – 
2016
 Live M
á
s Scholarship 
r
ecipient
, 2018, 2019, 2020
Live Más Scholarship renewal recipient, 
and 
Media & Communication
s
 graduate from Salem State University
As I got ready to graduate from Salem State University, it seemed natural to focus my thesis project on my greatest passion, skateboarding. Most students opt to write a traditional research paper, but I decided to do a creative project. Skateboarding has always been a male-dominated sport, but the women's industry has experienced a huge surge of growth in the last decade.  I set out to make a documentary capturing the current state of women's skateboarding while imagining where it will go in the future. 
"Pivotal Transition-A Women's Skateboarding Documentary" is the product of an eight-month-long endeavor. Starting the project during a global pandemic was intimidating because I didn't know if I could pull it off.  Despite facing some challenges initially, the result turned out better than I ever could have hoped.  During my four years of college, I was lucky enough to receive support from the Taco Bell Foundation through their Live Más Scholarship. Although my direction in school changed a few times, the Taco Bell Foundation always supported my choices and goal to graduate college while also staying true to what meant the most to me. With this in the back of my mind, whenever I doubted myself while making the documentary, I knew people believed in me and that I had the potential to achieve my vision. Through 11 formal interviews, including two with professional skateboarders, I discovered what makes the women's skateboard community unique, what barriers women in skateboarding still face, and where women's skateboarding stands today. I addressed the gender divide in skateboarding, and I gathered various perspectives on what will help erase the gender divide and push equality in skateboarding forward. My interviewees discuss where they see skateboarding going in the years to come and how the Olympics could impact the sport. Finally, each woman discusses the most significant thing they've gained from skateboarding and what makes them continue skating. The documentary includes skateboarding montages and original music by the artist Jaguar Sun.  I am grateful to my friends and family, the Taco Bell Foundation, and my school for supporting me throughout the making of this project. 
Any link contained in this blog is provided for informational purposes only; it does not constitute an endorsement or approval by The Taco Bell Foundation of any of the resources, services, or opinions contained therein. The Taco Bell Foundation bears no responsibility for the accuracy, legality, or content of these external sites or subsequent links.