Meet the 2022 Live Más Scholarship Recipients
The Taco Bell Foundation is excited to welcome the 2022 Live Más Scholars with more than $8 million in scholarships! 772 Taco Bell Team Members and fans join a community of extraordinary young people who define what it means to Live Más every day. Meet eight of the new Live Más Scholars who are cultivating inspiration as the next generation of leaders.
Taco Bell Team Members
Christian Thomas (Essex, MD): Christian is a senior at Eastern Technical High School in Essex, Maryland, with a passion for advocacy. As a student member of Baltimore County's Board of Education, he has fought for the recognition and respect of LGBTQ+ students by proposing and defending an LGBTQ+ Inclusivity Resolution. He was class president of his high school for three years and currently serves as a regional Red Cross youth leader. Christian is a founder of the non-profit called The Domino Effect Initiative, focused on providing middle school students with mentorship as they prepare for high school. Christian hopes to spend his four years in undergrad studying political science to learn what it means to be a public official.
Jasmine Brockington (Midlothian, VA): Jasmine is a senior at Manchester High School in North Chesterfield, VA, where she is a co-captain of her "Lancer Dancers" dance team and a big sister to two younger siblings. Falling in love with reading and writing from an early age, Jasmine pursued her interests further by becoming heavily involved in her high school's Mass Communications Center. In her journey to follow her passions in journalism and mass communications, she won 3rd place statewide for a documentary that she co-directed and edited in the Virginia High School League competition. Jasmine plans to attend a four-year university majoring in Mass Communications with a minor in Creative Writing to pursue her dream of becoming a broadcast journalist.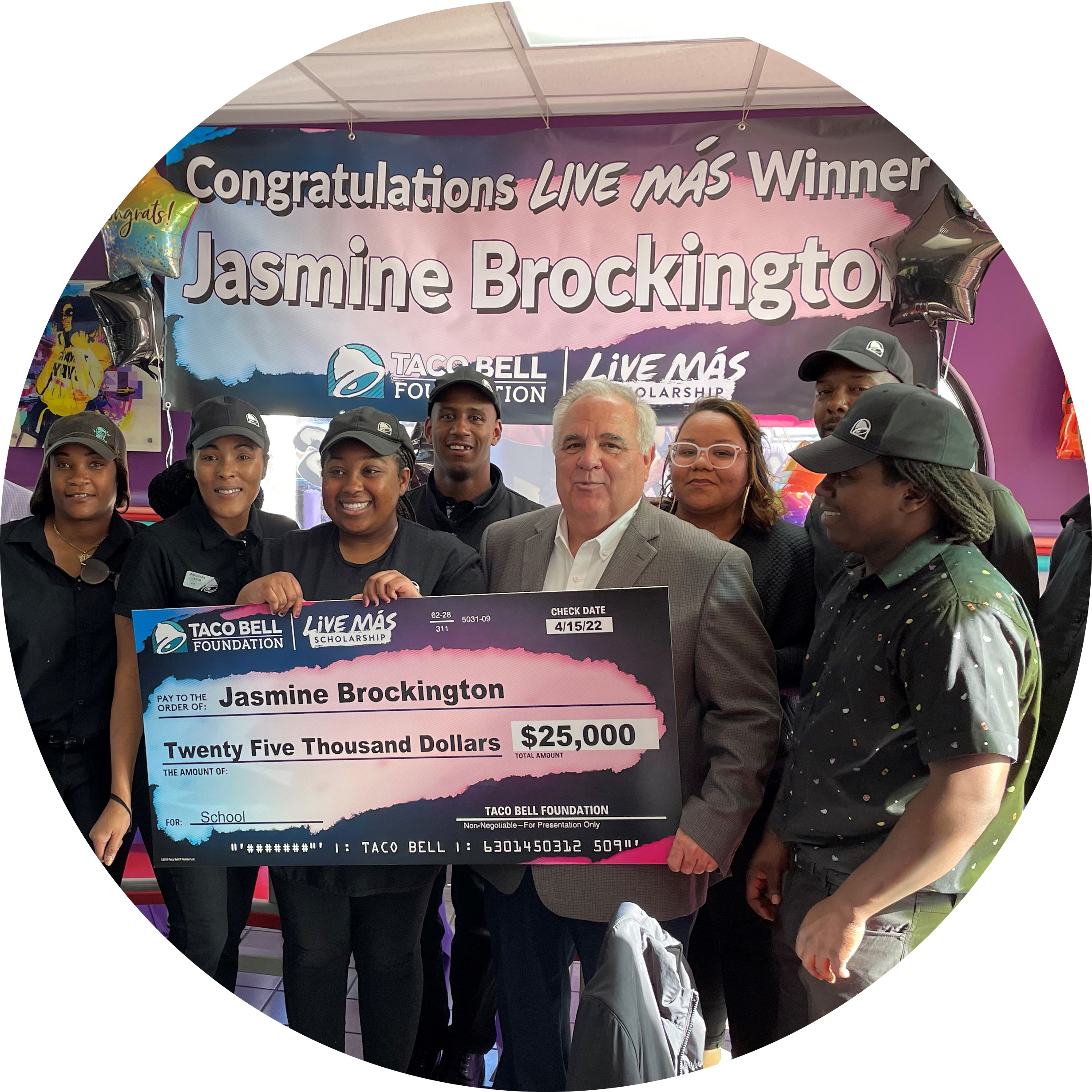 Teresa  Giacchino (Northlake, IL): Teresa is a 17-year-old from Northlake, IL, with a passion for helping children with special needs. Nine years ago, Teresa's brother, Luca, was diagnosed with Autism. Through their tight-knit bond, she teaches her brother new concepts in diverse ways that empower his differences. Inspired by her brother, Teresa wants to pursue psychology to become the therapist "[her] brother never had." She hopes to bring awareness to Autism in the classroom and her local community and use the scholarship to be the support that many families need.
VaSanti Brock (Auburn, AL): Vasanti is a sophomore Animal Science student at Tuskegee University in Tuskegee, AL. Her passion for animals started in high school, where she was a member of her school's FFA, Future Farmers of America, where she harnessed her love of the animal sciences and their relation to food production. She hopes to use the scholarship money to further her studies and research to improve animal welfare and overall health. With hopes of becoming the first college graduate in her family, she wants to focus on making sure all animal by-products are safe from product to home.
Kameron Hightower (Olive Branch, MS): Kameron is a native of Memphis, Tennessee, and a senior at Briarcrest Christian School. Since becoming a Taco Bell Team Member in 2020, he has discovered his passion for filmmaking. He is currently an editor and photographer for various events and has developed several short films set to debut this spring. He wants to use the scholarship to make films on issues affecting young people and further harness his craft by pursuing a collegiate education.
Miana Martinez (Sylmar, CA): Miana is a tri-lingual French major at Los Angeles Valley College, where she is taking supplementary French courses and is the president of her college French club. With her passion for the language, she will be traveling to France this summer to learn even more about the culture. After receiving her bachelor's degree, Miana wants to pursue a career as a translator and educator.
Taco Bell Fans
Joel Bervell (Portland, OR): Joel is a medical student at Washington State University and is the co-founder of Hugs for Ghana, a non-profit he founded in honor of his late grandmother, who passed away from Malaria. It is dedicated to bringing necessary school and medical supplies to children in African countries. As the first Black student at his medical school, he is dedicated to the advancement of fellow minority doctors and impacting communities of color, a cause that he is very vocal about on his "Medical Mythbuster" TikTok account at nearly 500K followers.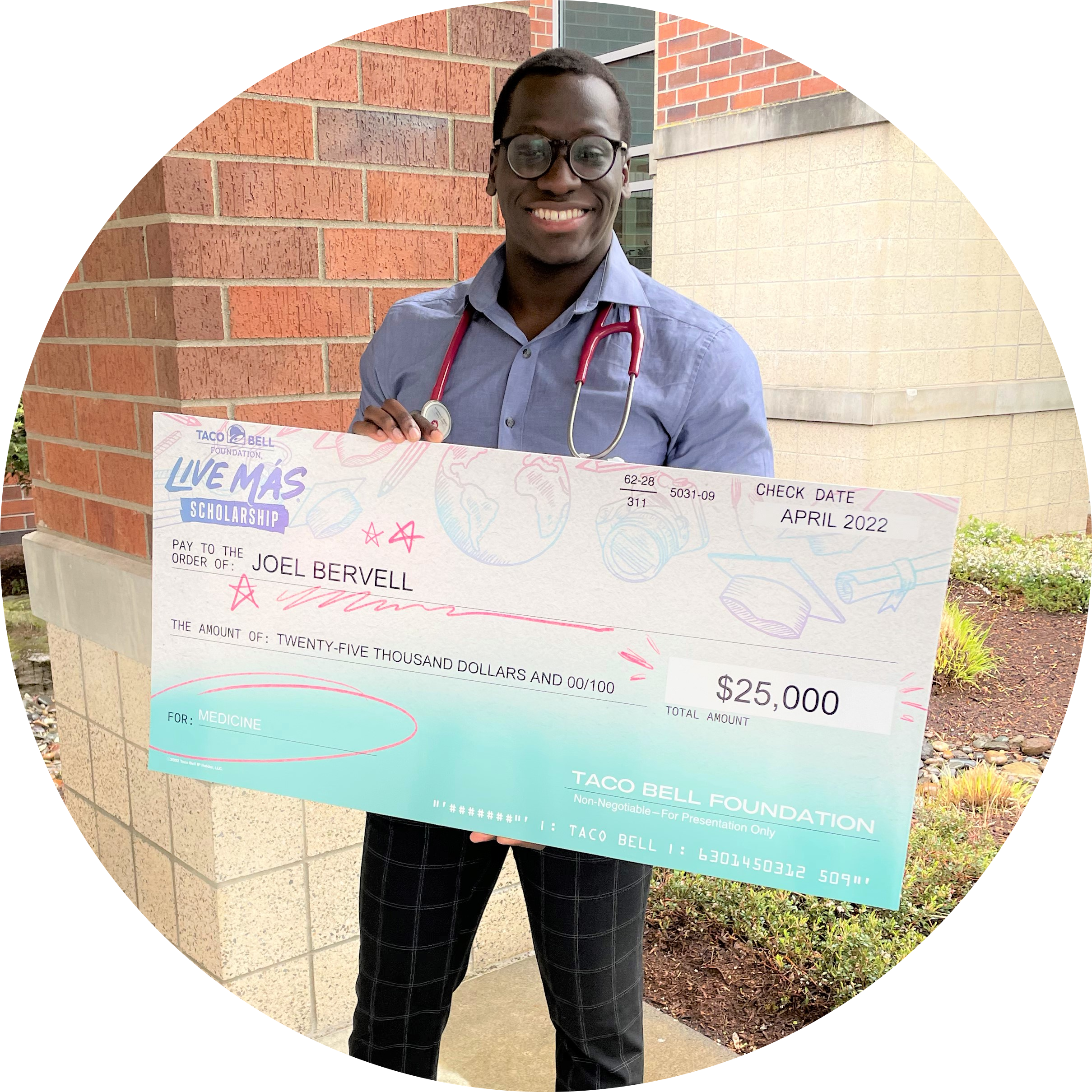 Brooke Taylor (West Bloomfield Township, MI): Brooke is a junior dance major at the University of Michigan. Using dance as an agent for social change, she harnesses choreography to bring light to social justice issues by planning various assemblies including a COVID-safe drive-in protest and an artistic protest for the murder of George Floyd. With her passion for dance and academia, she created an organization called "Black Scholars in Dance" to inspire students to see dance as more than movement but a way to create change.
Miguel-Carlo Magtaan (Beaumont, TX): Miguel is an architecture major at the University of Texas at Austin, a passion instilled in him by his father, who was an architect himself. After immigrating from the Philippines at a young age with his family, his passion is to use architecture as a tool to foster positive development within his community. In his three years of college, he has made it his mission to make the pursuit of architecture more accessible to low-income students, most recently spearheading student government legislation to reduce academic costs of his major. After graduation from his 5-year program, he hopes to specialize in affordable housing and sustainable buildings.