Posted June 2, 2023
While in high school, Kimberly Uehisa was diagnosed with high blood pressure and experienced firsthand what health inequity looks like. However, instead of standing by and looking past this inequity, she decided that it was her responsibility to initiate change for herself and others and to learn what it means to be your own healthcare advocate.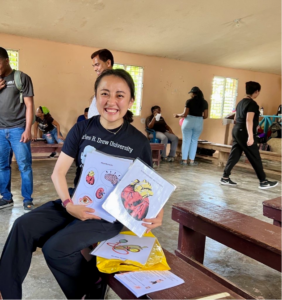 After discovering this passion of hers, Kimberly quickly began immersing herself in volunteer opportunities that only deepened her love and respect for the healthcare field.
"Growing up, I would spend my weekends at the Ronald McDonald House where I was a companion to kids diagnosed with cancer. I was able to build meaningful relationships with the kids and bring them joy during a challenging time," Kimberly said. "It was gratifying to be there for the kids and their families, and this is when I really gained a deep appreciation for the importance of health and wellbeing."
To deepen her understanding of the healthcare industry, Kimberly was also heavily involved in her high school robotics team. With this team, she had the opportunity to attend a STEM camp at the U.S. Naval Academy, where she first became interested in biomedical engineering. While there, Kimberly learned that supporting others and creatively approaching obstacles, such as through robotics, fueled her passion and would eventually translate into her future work.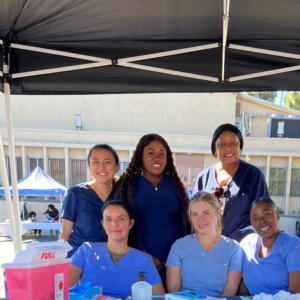 Fast forward to 2022 and Kimberly began pursuing her master's degree in biomedical sciences from Charles R. Drew University of Medicine and Science. To help turn her dreams into a reality, Kimberly decided to apply for the Live Más Scholarship. Right off the bat, she could see that the Live Más Scholarship would provide her with more than just a check. It could offer her the ability to equip herself with the knowledge and skills needed to tackle the disparities in healthcare and reach her goal of becoming a doctor.
"The Taco Bell Foundation has really supported me in building a platform to elevate my passion in cultivating heart health awareness, which just shows the power this organization has to inspire young people to continue making a difference," Kimberly stated.
Since receiving the Live Más Scholarship, Kimberly has found herself even more embedded in the Taco Bell Foundation community as she was selected as a finalist for the Taco Bell Foundation's newest program: the Ambition Accelerator. Ambition Accelerator is a social impact program helping young changemakers access the resources needed to enact positive change in their communities.
Ambition Accelerator culminated in an in-person summit at Taco Bell's headquarters in November 2022. The five young semi-finalists from across the U.S. pitched changemaking ideas to a panel of judges that included celebrity business leaders.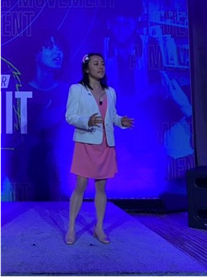 As one of those finalists, Kimberly pitched her program, Equity Reach Healthcare (E-ReacH) – a  text-based app and simulation game where the user must take care of their avatar everyday as they would take care of themselves. The app is a fun yet educational tool that is meant to increase healthcare access and equity in underserved communities by providing tailored, relatable information to users. Through the Ambition Accelerator, Kimberly was awarded seed funding for E-ReacH to continue evolving the program.
Kimberly stated, "The Ambition Accelerator has made sure my work is constantly evolving. It has inspired me to invest and engage with my network and work every day on furthering my desire to creating an app and hopefully, starting a non-profit organization focused on both research and community health and outreach."
Since the Ambition Accelerator summit last November, Kimberly continues to find new ways to engage with her community. In April she spoke to a handful of middle schoolers about how to be your own health advocate. She also had the opportunity to travel to the Dominican Republic to perform health screenings with local doctors and educate the community on healthy behaviors.
Kimberly wants aspiring changemakers and health activists everywhere to know that a difficult situation is always the greatest opportunity for growth and impact. "Progress is always possible if you have the desire to be curious, remain resilient, and have a willingness to learn," she added.