Shawn Patel – 2019 Live Más Scholarship Recipient, UC Berkeley EECS & Regents' Scholar, iOS Developer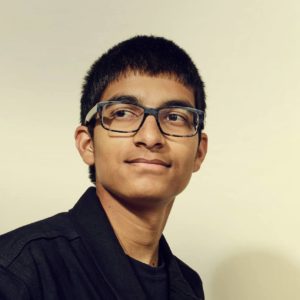 Dressed in a suit, Shawn Patel stood in the executive boardroom of the Taco Bell Restaurant Support Center in Irvine, CA. Although he had only graduated from high school two months prior, he confidently pitched his idea utilizing thermal-sensing technology to prevent foodborne illness to a large group of corporate employees. But how did he get there?
Shawn's journey with Taco Bell began in May 2019 when he received a $10,000 Live Más Scholarship from the Taco Bell Foundation. However, his professional journey as a developer was already long in the making.
Shawn taught himself how to code and build software when he was only 13 years old. He has since launched several innovative mobile apps, including: UV Safe, an app that reminds users to reapply sunscreen based on the UV index of their location; Vysual Assyst to help individuals who are visually impaired navigate the world; and most recently, Cosmo, a virtual assistant that uses artificial intelligence (AI) to assist hospital patients.
Shawn's commitment to putting his passion into action is one of the many reasons why he received a Live Más Scholarship and was extended an internship by Taco Bell's Kitchen Innovation Team.
During his internship, Shawn was tasked with designing an original product to fulfill a need within the restaurant industry. Fueled by his passion to utilize AI, he decided to explore how to combat foodborne illness by developing software to test illness within employees. Thanks to the mentors, colleagues, and industry professionals he met along the way, Shawn gained invaluable hands-on experience. "I had access to more resources than ever before. It felt good to be able to create a finished product with a potential to make real change on such a massive scale."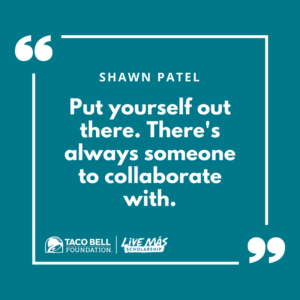 Shawn's advice for students in their first internship: "Put yourself out there. It can be intimidating to speak up and share your experience, but there is always someone willing to listen, help, and collaborate."
"Find the things you love, and you will excel in them," Shawn shares. "We can be so focused on following a specific path and hitting the 'right' milestones—that we forget about making time to discover and do the things we love."
Shawn is now a first-year at the University of California, Berkeley, studying electrical engineering and computer science. He has been updating his mobile apps using the concepts he learned this summer and plans to continue developing new tools in medical technology. "I want to use computer science to deliver affordable and accessible healthcare. By creating mobile technology that offers portable diagnostic methods, I can change the way providers make a medical diagnosis. I want to use my drive and affinity for innovation to help people live healthier lives."
More than the money, the Live Más Scholarship connects students with real-world opportunities to develop their passion for the professional world. Applications are now open—click here to apply today!