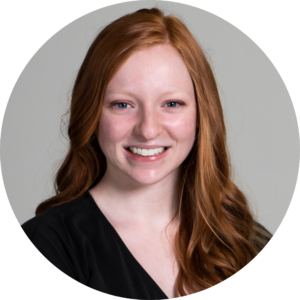 Jaiden Turner
– 2018 Live Más Scholarship recipient, 2019, 2020 & 2021 Live Más Scholarship renewal recipient, and Film and Photography student at Montana State University 
Even before receiving my first Live Más Scholarship, I always knew I wanted to use filmmaking to tell meaningful stories. As a rising senior at Montana State University, I've been able to do that thanks to the highly hands-on learning style of the film program. During the Fall 2020 semester, I had the opportunity to tell a deeply personal story as I directed my first short film—   
"Breathe" is about Abigail, a young woman who isolates herself following a car accident that caused her sister's death. While Abigail deals with her grief, her childhood best friend, Lauren, brings her the supplies she needs to continue living. Tired and afraid of watching Abigail wither away inside her home, she informs Abigail of her recent engagement. Lauren then gives Abigail an ultimatum: leave her home and continue living, or Lauren won't return. Abigail wants to accept her grief and continue living, but a physical manifestation of her depression and anxiety prevents her from leaving her home. When Lauren returns a final time, pleading for Abigail to choose to live, Abigail fights her demon ("The Creature") and reaches out for the help she needs. 
I wrote "Breathe" for my scriptwriting class during the Spring 2020 semester. I wanted to create this film out of my visual concepts of "The Creature," the manifestation of Abigail's depression, and the dark aesthetic of the film. After finishing the script for class, I asked myself, "Why should I be the person to tell this story?" As I reflected, I found that Abigail's struggles with mental health mirrored my own. As a young teenager, I struggled with depression, which returned along with severe anxiety after a car accident in 2018 that could have ended my life. During this time, it was hard for me to ask for help. Through "Breathe," I wanted to give physical shape to something more than 450 million struggle with daily. I've been on both sides of the story; I've struggled with mental health, and I've tried to reach out and offer support to others. As Abigail struggles throughout the film, I hope that people realize others care and want to help—all you have to do, is ask.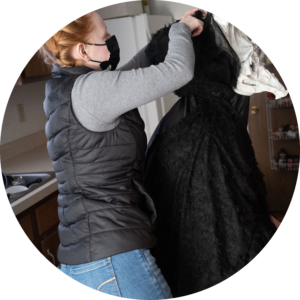 After creating a lookbook and pitching it to my Junior Fiction Production class, "Breathe" was one of four films selected for production. I was so excited and also incredibly nervous. I had never directed something this big before, and with access to the school's equipment, I was directing a professional-grade short film. Being afforded the opportunity to write and direct a film was a massive accomplishment, especially during a global pandemic. "Breathe" was such an important story to me, and this was a fantastic opportunity to demonstrate my passion for filmmaking and create something to showcase my work.  
While filming "Breathe," I faced and overcame many challenges. I directed actors for the first time and was forced to find a new apartment set in one week after two people living in the original location tested positive for COVID-19. I endured 18-degree weather to get the perfect shot, and I navigated how to film safely during a global pandemic. I researched and followed industry guidelines by asking screening questions, routinely taking temperatures during shooting, and creating zones for each department to maintain distance.  
I also experienced a wide variety of emotions, like feeling like my heart was on fire while filming the car accident scene. The shot looked exactly as I had imagined. All the nerves I had leading up to production were suddenly gone, replaced by excitement at seeing my vision become a reality. Filming some of the darker scenes was very emotional for me because I was showing the anguish people face when they feel the most hopeless, and no one else can see. I'd felt like this in the months after my accident. It was a combination of disbelief, stress, and anxiety that was all-consuming. However, finishing those scenes was freeing. It allowed me to share my experience and bring forward the issues people face when struggling with their mental health. Though everyone experiences grief in different ways, I wanted this film to give people hope.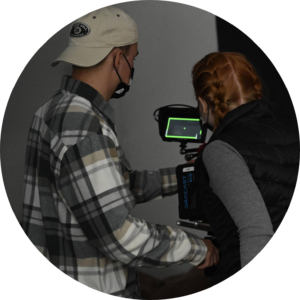 Creating "Breathe" was one of the most exciting experiences of my life. It feels special to share a story that I am passionate about and see how far I have grown as a filmmaker since starting this project. "Breathe" received an Honorable Mention in the Athens International Monthly Film Festival and was nominated for Best Actress and Best Cinematography in the San Bernardino Valley College International Film Festival. The Taco Bell Foundation helped me follow my passion through the Live Más Scholarship, which allowed me to create my first short film and bring attention to mental health issues. I am so proud to share this film, and I hope to continue telling meaningful stories with my future work. 
Any link contained in this blog is provided for informational purposes only; it does not constitute an endorsement or approval by The Taco Bell Foundation of any of the resources, services, or opinions contained therein. The Taco Bell Foundation bears no responsibility for the accuracy, legality, or content of these external sites or subsequent links.