Joshua Payne – 2016, 2018 & 2019 Live Más Scholarship Recipient, Stanford MBA '22
Joshua Payne, a 2016, 2018 and 2019 Live Más Scholar, was in the midst of his Winter Quarter at Stanford University when the COVID-19 pandemic swept through the US. When classes moved online, Josh headed back home to Texas to complete his coursework towards an undergraduate degree in Mathematical and Computational Science and a graduate degree in Computer Science. Although he knew he would also be spending time preparing for the MBA program he'll start this fall, Josh realized there was more he wanted to be doing.
"As I traveled back home, I knew I wanted to use my passion for research and problem solving to get involved combatting the pandemic, but I wasn't exactly sure how. While scrolling through the online community for the Stanford MBA Class of 2022, it dawned on me that bringing together this group of aspirational students would be an impactful way for us all to make a difference. I realized that through leveraging our skills we could utilize a multi-disciplinary approach to build ventures and provide relief. After sharing my idea in the Facebook group, I received more traction than I expected. Immediately, thirty students committed to participating, and a few even asked to take on leadership roles. Together, we created the COVID-19 Response Innovation Lab."
This initiative brings together more than 275 members of the Stanford Graduate School of Business, School of Engineering, and School of Medicine for the purpose of forming entrepreneurial or research ventures that combat COVID-19 and its repercussions. This incubation platform serves as a support network for the teams working on twenty active projects spanning four categories: medicine, information, enterprise and socializing. Projects range from 3D printing for critical medical supplies and self-testing technology to mental health support and community-building platforms. Teams are using their innovation to help improve systems, structures and societies and provide both immediate and long-term solutions for the effects of the pandemic.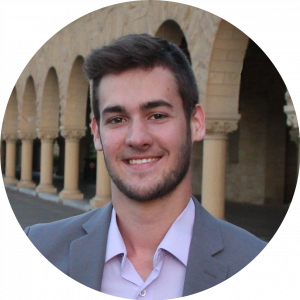 As the teams work on their respective projects, the student Advisory Team provides them with support by allocating personnel to assist with research, applying for grants to receive funding, and hosting weekly calls with guest speakers. "So far, some of the incredibly knowledgeable and accomplished speakers we have had the pleasure of hearing from include Milana Trounce, Professor of Emergency Medicine and Director of Stanford BioSecurity, Mike Cassidy, the CEO of his fifth startup, and Alice Bonhomme-Biais, the former leader of the Google Crisis Response Team. The insights students have gleaned from these professionals has been invaluable, and their guidance on delivering impact quickly has been extraordinarily helpful, as time is of the essence in this crisis."
Over the past few weeks, the COVID-19 Response Innovation Lab has quickly expanded, with students from universities across the country joining in. Josh says, "It has been inspiring to see students working diligently and mobilizing rapidly to address the issues the world is facing. For me, it's important to live out my purpose and take action. I'm happy I am able to do what I can to aid in this effort and encourage others to get involved, too."
As of now, the teams have no plans on slowing down, and are working daily to find and implement solutions. Post COVID-19, Josh and his team hope that the Innovation Lab will become an official part of the University that will adapt to fight any health crises that may occur in the future.
As for Josh, in the fall he will begin the two-year journey to earn his MBA from Stanford Graduate School of Business. From there, Josh plans to work as a technology entrepreneur to utilize his passion for innovatively building technology that helps people.
Click here to learn more about the COVID-19 Response Innovation Lab.*
*The links contained in this post are provided for informational purposes only; they do not constitute an endorsement or an approval by the Taco Bell Foundation of any of the resources, services or opinions of the organizations or individuals, as applicable. The Taco Bell Foundation bears no responsibility for the accuracy, legality or content of these external sites or subsequent links. Please contact the specific external site for answers to questions regarding its content.