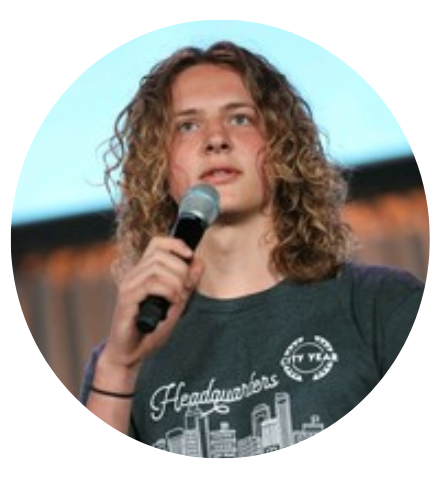 Have you ever wondered what it's like to take a gap year? What is it and how would you spend your time?
City Year, a Taco Bell Foundation Nonprofit Partner, is one organization that offers gap year opportunities for young adults like 2019 Live Más Scholar Clark Shimeall, whose City Year experience helped him make an impact on his community while developing valuable professional and leadership skills to prepare him for his next step in life.
Taking a gap year with City Year, means dedicating a year of national service as an AmeriCorps member. In this role, members serve in public schools full time as student success coaches, helping students build on their strengths while cultivating social, emotional and academic skills that are important in school and life. During their service, diverse teams of AmeriCorps members also receive professional development training and resources to help them become leaders in their communities, develop problem-solving skills for their future careers and become more active citizens.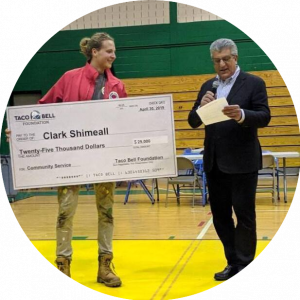 2019 Live Más Scholarship recipient & City Year alum Clark shares how he made the decision to take a gap year to serve with City Year. "I knew I wanted a change of pace from the academic experience while pursuing direct impact and service in a way that I didn't have the time or ability to do when I was younger. After some internet searching, I found City Year and was drawn to their focus on one year of impact in a particular location. I was captivated by the premise of dedicating one year of time to doing the most good in a community."
Clark ended up extending his service to two years – first collaborating with a teacher in an 8th grade classroom in Boston and during a second year as a member of City Year's Care Force team that engages volunteers in community service projects across the country. While he readily admits it wasn't always easy, he is grateful for all that he learned through his experience. "I had such a rich experience during my gap years, but during that time, I often felt unsure about what I was going to do, if I would be able to handle teaching in a demanding environment or be okay living on my own. Through the process I learned the value of accepting and embracing those feelings of uncertainty. Those years also further developed my passion for place-based community and environmental work."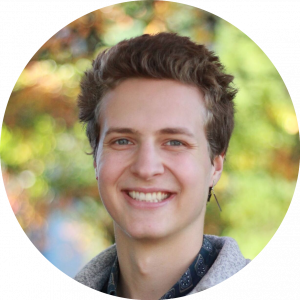 City Year knows a little something about embracing uncertainty as well. After the COVID-19 pandemic caused schools around the country to close, City Year, adapted to find ways to support students and provide professional development training to corps members virtually. While the end of their service year looks different, corps members are still inspiring students to connect with their school community and learn – work that is more important than ever. AmeriCorps members are playing an especially critical role in keeping students engaged and will continue to do so when schools open again as they help students reconnect with their school community, re-engage in their learning and recover from learning loss.
City Year is currently accepting applications, through May 29, 2020, for AmeriCorps members to help serve when schools reopen! While a gap year may not be the right path for everyone, Clark's gap years helped him discover his enthusiasm for leading groups of volunteers in service projects refurbishing community spaces. For anyone interested in getting involved, he recommends doing research to find a program that fits you, taking advantage of as many opportunities as possible to broaden your perspective, being open to change, learning to embrace the unknown, and striving to be present to make the most of each day.
Currently, Clark is completing his second year at Portland State University majoring in geography. In addition to continuing his efforts to support local community and environmental efforts, he is working on the board of a nonprofit to get more experience running community projects while still staying close to hands-on work.

City Year believes that uniting and empowering diverse teams of idealistic young people to support students in our public schools can change the world for the better. Find out more about the City Year experience and application process on their website.
Click here to learn about other organizations the Taco Bell Foundation partners with to support youth education and career development in local communities across the country.
*The external links contained in this post are provided for informational purposes only; they do not constitute an endorsement or an approval by the Taco Bell Foundation of any of the resources, services or opinions of the organizations or individuals, as applicable. The Taco Bell Foundation bears no responsibility for the accuracy, legality or content of these external sites or subsequent links. Please contact the specific external site for answers to questions regarding its content.