Posted April 25, 2023
The Taco Bell Foundation has kicked off their 2023 Live Más Scholarship season with a little help from the Sacramento Kings.
On April 2nd, during the halftime show of the Sacramento Kings game against the San Antonio Spurs, the Taco Bell Foundation, alongside local Taco Bell Franchise Owners, awarded seven Taco Bell fans with Live Más Scholarships.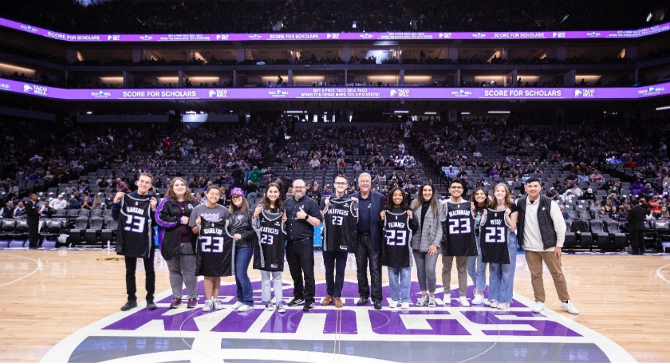 "When I found out that I had won the Live Más Scholarship, I was absolutely ecstatic," said Andrés Maldonado, a 2023 Live Más Scholar who was awarded $25,000 in scholarship during the game. "I felt proud of all the hard work and effort I have invested in bringing my passion to life, and grateful to the Taco Bell Foundation for recognizing my potential. It made me feel excited to continue living my passion for health equity."
This year, the Taco Bell Foundation announced it is awarding more than $10 million in Live Más Scholarships to 982 students, just like Andrés, who are eager to ignite powerful change within their community.
Among the scholars awarded was Tiernan Vestal, a graduating senior with a passion for human health. "I can't wait to use my scholarship to go to a college where I can participate in scientific research," she stated. "Rather than worrying about the cost of college, I will be able to spend my senior year working, volunteering at my local hospital, starting a club at my school, and becoming a summer intern for a mobile health unit. This scholarship has opened a world of opportunities for me – and I couldn't be more grateful."  
After the halftime show, the celebrations continued with a post-game taco party recognizing all the scholars and their hard work.
The Live Más Scholarship goes beyond the funds awarded and provides a community for these young scholars. The program opens the door to connections, opportunities, and programs to help students flourish in their passions.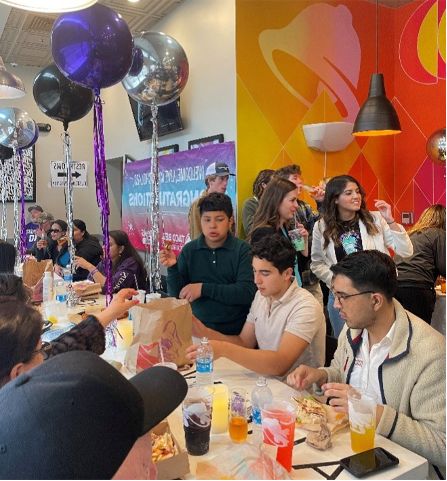 "Being a part of the Live Más Scholarship community means so much to me," said Dillon Hill, another 2023 Live Más Scholar who was awarded a $10,000 in scholarship during the game. "I am deeply touched by the warmth, encouragement, and camaraderie I have experienced from my fellow scholars and supporters. It is an honor to join a group of talented and driven individuals, all striving to make a positive difference in the world."
Check out the stories of the seven 2023 Live Más Scholars who were awarded their scholarships during the Kings game and will be changing their communities for the better: