Posted April 26, 2023
THE TACO BELL FOUNDATION SERVES UP $10 MILLION IN LIVE MÁS SCHOLARSHIPS TO EDUCATE, INSPIRE, AND CONNECT FUTURE LEADERS
The Taco Bell Foundation is breaking down barriers to education for young people pursuing their passions, in a record-breaking year for applications and awards.
IRVINE, Calif. (April 26, 2023) – Today, the Taco Bell Foundation announced it is awarding more than $10 million in Live Más Scholarships – the most in the nonprofit's history. The scholarships will be distributed to 980 students, ages 16-26, eager to ignite powerful change within their community and beyond. This year, the Taco Bell Foundation is giving $2.5 million to Taco Bell restaurant team members and $7.6 million to Taco Bell fans nationwide. Award amounts range from $5,000-$25,000 per recipient. 
The Live Más Scholarship is a passion-based scholarship that gives students the tools and resources to boldly pursue their educational dreams. To qualify for the scholarship, applicants must submit a two-minute video describing their passion, a positive change they want to make in the world, and how their education will help them achieve that goal. 
This year, the Taco Bell Foundation received its highest number of scholarship applications – nearly 14,000. Recipients include more than 300 fans of the brand, 150 Taco Bell restaurant team members, and over 500 renewal recipients through the Taco Bell Foundation's renewal application, allowing applicants to renew their scholarships up to three times. 
Scholarships awarded to Taco Bell fans are funded 100% by customers who participate in the Taco Bell Foundation's Round Up fundraiser by rounding up to the nearest dollar, proving change can change lives. While team member scholarships are funded completely by donations from Taco Bell Corp. and Taco Bell Franchisees. 
"The Live Más Scholarship is more than a check. It provides a community for these young scholars where they can learn from one another and grow outside of the classroom," said Jennifer Bradbury, Executive Director of the Taco Bell Foundation. "The Live Más Scholarship opens a door of connections, opportunities, and programs to help students flourish in their passions."
Check out the stories of two 2023 Live Más Scholars who will be using their scholarships to create a better world for us all: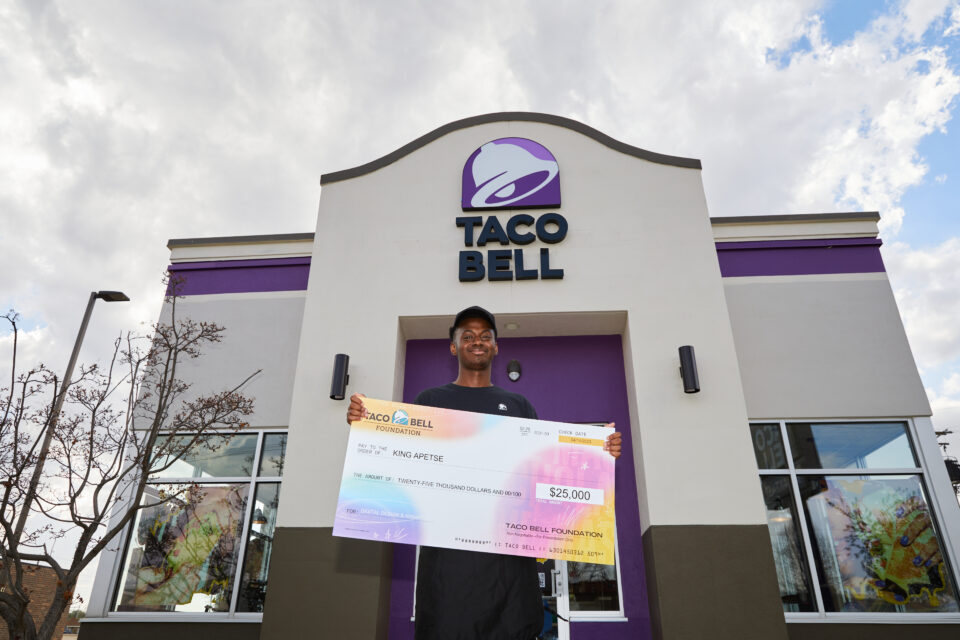 King A.

: King is a passionate animator who is currently studying Art and Business Marketing at the University of Nebraska-Lincoln (UNL). The son of Togolese immigrants, he hopes to one day open his own animation and art studio that will help first-generation American animators, like himself, succeed in the industry. King is a Taco Bell team member and learned about his scholarship during a surprise party at the Taco Bell where he works and where his dad is the Restaurant General Manager.
Stacy E

.: Born deaf in a Spanish-speaking household, Stacy quickly learned the challenges that come with language barriers. Over time and with the proper resources, Stacy learned American Sign Language and fell in love with Deaf Education. Stacy, now working on her Associate of Arts, is planning to continue her education at Stephen F. Austin State University to pursue a degree in Deaf and Hard of Hearing Studies. With this education, Stacy hopes to return to the classroom as a resource for deaf and hard of hearing youth in order to make a difference in their lives and educational journeys. 
Live Más Scholars will have the opportunity to travel to San Diego, California, and attend the Live Más Scholarship Summer of Connection this July. The in-person conference is designed for attendees to cultivate the necessary skills and connections needed to boldly pursue their careers and make a difference in their community.
About Taco Bell Foundation
Taco Bell Foundation, Inc. is a 501(c)(3) public charity that helps America's young people pursue their educational goals and career aspirations. Since 1992, the Taco Bell Foundation has reached more than 5 million young people across the country and has awarded $155 million in grants and scholarships, focused on education and career readiness. For more information about the Taco Bell Foundation, visit www.tacobellfoundation.org.
# # #