Posted October 24, 2022
September marked the next milestone of the Taco Bell Foundation's Ambition Accelerator, with the announcement of the top 26 teams of ambitious changemakers who have been selected to move to the next round of this inaugural program.
For decades, the Taco Bell Foundation has been championing young people through various grants, scholarships and events. The Ambition Accelerator is the latest initiative that takes those efforts to a new level. The Foundation is proud to be partnering with Ashoka, the largest global network of social entrepreneurs, to help young innovators in their pursuits to enact change and tackle inequalities.
Selected out of almost 300 applications, the top 26 teams will receive additional seed funding and be flown out to Taco Bell's headquarters out in California in November. They will experience an exclusive three-day Summit to network and sharpen their changemaking skills. Five will be selected as finalists, with the chance for one remarkable winner to win up to $25,000 to accelerate their ventures.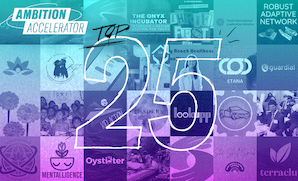 From the top applicants, several trends emerged that showcased the passion areas of young changemakers today. Some categories include:
Mental Health for Teens: Multiple applications focused on finding solutions to various mental health issues facing teenagers, from creating safe spaces for Black girls to talk to promoting positive body images.
Technology for Good: Some submissions focus on technological solutions to societal problems, from mobilizing robot teams that bring resources to disaster zones to an iPhone application that can detect Parkinson's.
Sustainable Futures: Building a more sustainable world was on the minds of many changemakers, resulting in submissions that ranged from bee habitat restoration efforts to a festival fostering eco-friendly fashion trends.
Youth Education and Development: Young leaders are passionate about setting up their peers and future generations for success, from an organization increasing access to science, engineering, math and technology education in under-resourced communities to an app that trains young people in rural communities to enact change.
You can now check out the full list of inspiring recipients and learn more about the Ambition Accelerator by clicking here!